Mostly for those with a slightly wider nose, but not tall nose cups. Our noses grow as we age and gain weight, and sometimes this slight width increase over Slim is helpful.

NOT FOR MEN WITH MED. OR LARGER NOSE!!!!!!!

This Slim-PLUS size goes in slightly LESS deep than Slim size. (Slightly wider & taller)
90 day guarantee against breakage. (I hand-form the Slim-Plus.)
Please review size chart above to see if this is your size.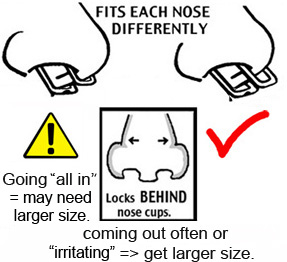 Such comfort, you'll forget it's there. Glides in; glides out, yet correct size stays put all day or night. No pinch/press/pulling. Reusable. GUARANTEE: to stay put and feel better than nose strips and nose accessories
Made from THE most expensive/hypo-allergenic medical-grade plastic sold. Patented Snore Stopper® products fit the nose perfectly. You won't even feel it. Enjoy day/night happiness TODAY! 100% made in U.S.A